Updated pricing model for mental wellness training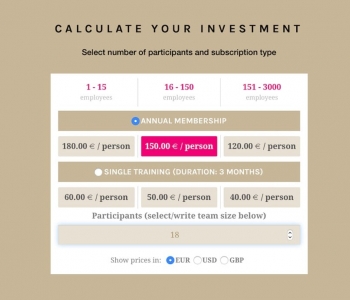 Choose training and find interactive price calculator
20.07.2021
We see that absolutely everyone can take their self-development and mental wellness to the next level by systematic intrapersonal education. That was the reason we have developed this fully digital mental wellness gym for you.
We allow you to start with our free resources or content-rich mental wellness blog posts, as those demonstrate to you that the mental wellness content here is meaningful and applicable.
Over the years, many workplaces have used our e-trainings and are happy with the results. However, we had feedback that our previous pricing model favored too much certain team sizes. We now solved that problem for you for good.
Training your mind is an investment
Your investment for a full day worth of e-learning per employee is never higher than £54 ($66 or 60€). As training a bigger team is cheaper for us, we reflect that business reality in our mental wellness training fees. So, training more people is cheaper per person also for you.
Our main aim is to serve workplaces by securing healthy minds. It isn't just mental wellbeing training for managers or team leaders, but for all staff.
We all have minds and those minds deserve to be healthy.
We have done our best to make it easy and affordable for you. So, are you ready to start training now?

We offer the best mental wellness training price
The new mental wellness e-training pricing model offers e-learning opportunities for all teams with more attractive prices. You now pay according to the exact amount of people you want to train.
When you and your team apply what you learn during this mind/brain wellness and productivity-centered e-learning experience, you can see up to tenfold ROI based on our actual customer feedback!
The best mental wellness training price guarantee
When you order any Wellness Orbit mental wellness training and find within a month from the purchase a similar 5 to 8-hour proactive mind health training by a qualified mental wellness professional that is cheaper, we will refund you the price difference.
So, dig in and select your e-learning course for mental wellbeing and productivity!
Remember, postponing the training of your brightest minds is a clear business loss. It can cost your team up to £3,353 ($4,370 or 3,710€) per employee every single year (you find proof of this on our front page and blogs). Considering this, the least you can do is ask for an offer now!

If you have any mental wellness questions or need help with choosing the mental wellness program for your team, please feel free to contact us.
Conclusion
Wellness Orbit has never been a get-rich project. We are here to serve you.
This site offers sustainable mental wellness solutions that support teams who value their people and want to see them succeed in all work and life situations.
We are thankful for every single person who has taken our training as we know they now work and live better.
We are also very happy about the feedback that made you feel like winners after training your mind.
We dream that someday you can give us your testimonial too!
---
This news post is by Kaur Lass