Mental wellness impacts everybody. First and foremost, mental wellness is about arriving at an excellent quality of life and work.
Plus improving mental fitness can potentially double your productivity.
Dr. Helena Lass will show how to stay mentally fit for work. Watch the short video NOW and then please share it...
"No specific gene has been identified as a solitary cause for a mental illness, average genetic predisposition being below 50%. Challenging the existing paradigm, I suggest a lack of inner education to be the most widespread predisposing factor, leaving trillions vulnerable and at risk. So, intrapersonal skills that secure mental wellness can be seen as a preventative action against developing mental health issues. However, mainly mental wellness helps you to use your inner powers to the fullest and be well regardless of the external conditions." – Dr. Helena Lass
While we work out to train the muscles of the physical body, how much time and resources are spent to take care of the head – the main instrument we use to do our jobs?
This video has a length of a short coffee or tea break and takes a bit over 7-minutes to complete. Watch it to the end and enjoy several AHA moments. The Wellness Orbit proactive mental wellness e-trainings enable you to improve productivity and employee engagement.
This is the contact-free high-quality training by the mental wellness expert that you need more than you are aware of.
This unique approach is developed by Dr. Helena Lass whose scientific paper and articles about mental fitness have been published worldwide.

This high-value e-learning opportunity enables you to secure excellent mental well-being regardless of your location 24/7.
Share this insightful video NOW! ►
---
DO NOT STOP HERE, TRY THE PROACTIVE APPROACH NOW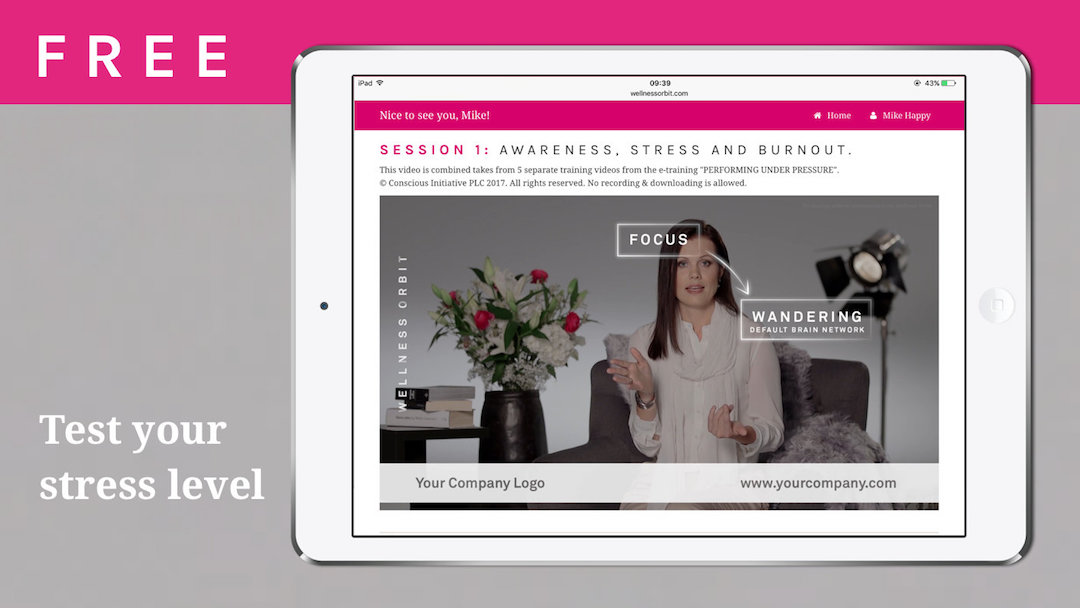 Are you aware that stress is the main pathway to work-related mental health problems? Stress causes burnout, anxiousness, emotional irritation and mental illnesses such as anxiety and depression and even many physical health problems, like cardiovascular diseases, shoulder and back pain, headaches, insomnia, etc.
So, come and learn more about the stress and proactive mental wellness approach with Dr. Lass that clicks below.
With less than 30 minutes you will experience:
Unique stress test with instant personal feedback;
A video with 1-on-1 feel introducing how to avoid stress and burnout.