Mental wellness is a proactive approach to mental health. Mental wellness is a vast arena relating to the quality of life and it should not be associated with mental illnesses. Most common mental illnesses are the result of not having good mental wellness.
THE DIFFERENCE BETWEEN MENTAL WELLNESS AND MENTAL ILLNESS
Too often 'mental health' gets confused with 'mental illness'. The two couldn't be more different. Mental health is something that every person has when their inner functions operate in the most optimal manner. It is a level of psychological well-being that secures you a peaceful mind. When people have excellent mental health and optimal inner functioning, we call it mental wellness.
Mental illness is instead a lack of mental health and is the result of not dealing with the problematic way of our inner functioning in time. It is mostly due to an absence of specific education – the intrapersonal skills ('intra' meaning inside).
Mental illness is often a direct result of neglecting the need for proactive mental wellness education (see illustration). The problem we have around mental health and illnesses can be understood with a simple analogy. It would be as if the responsibility around fire safety would focus only on fire fighting. Then people would only rely on external measures to fight the consequences of fire – instead of learning and securing fire safety measures so that fires would not break out in the first place.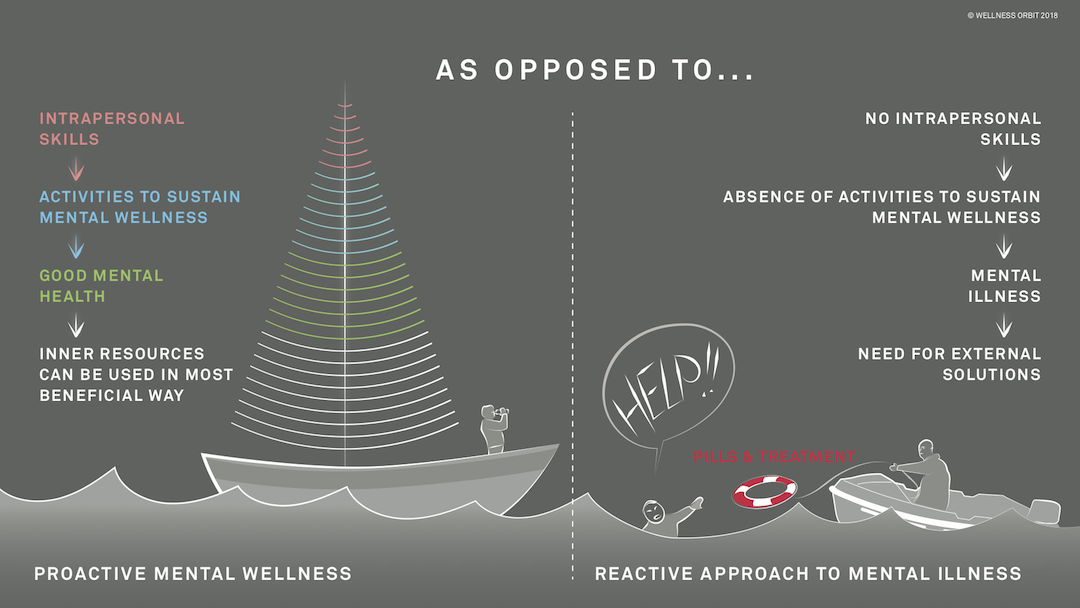 The new proactive approach to mental wellness by Dr Helena Lass vs the old reactive approach (often referred to as 'mental health')
If we as a society do not start to pay more attention to normal mental functions and how to learn skills that enable us to have excellent mental wellness, then the escalation of mental illness into an epidemic cannot be stopped. We really need to shift away from talking about illness and stigma fighting to a new and effective proactive mental wellness approach. Why?
STAGNATION OF MENTAL HEALTH
The arena of mental health has been stagnating for some time, as there is no single gene known to cause psychiatric illnesses there are no simple medical solutions. So far the focus on mental health topics has been placed upon disorders and the cure. The majority of methods in psychology have been developed as forms of intervention for a therapy setting and not as a proactive education for healthy people. When you consider that every fourth person on the planet faces some kind of mental health problem, it is alarming that the importance of personal and social strategies for mental wellness have been massively overlooked for decades, especially at workplace.
It is in this very problematic global context that the Founder of Wellness Orbit and psychiatrist specializing in mental wellness – Dr Helena Lass has developed an early proactive intervention in the form of structured intrapersonal education. This approach to mental wellness increases the quality of life and decreases the chances of stress, burnout, depression, anxiety, etc. all of which have become epidemic in their proportions and have serious consequences on companies, families and individuals alike.
PREVENTATIVE SIDE OF THE MENTAL HEALTH EQUATION
Dr Helena Lass has formulated the theory of this new approach in her scientific paper "Developing Intra-Personal Skills as a Proactive Way to Personal Sustainability - The Preventative Side of the Mental Health Equation" (published by Routledge; London and New York 2018) to bring forward a compelling argument for a proactive approach to mental health. Within this mental health-focused article, Dr Lass outlines a new proactive approach to mental wellness as something that everyone should actively strive towards. Her scientific paper shifts the focus from the external reactive problem-solving approaches towards a more proactive education on mental wellness, whereby people who are still well can learn new skills to prevent further escalation of negative states into mental illness.
Dr Lass researched a wealth of scientific papers and found that "there is strong and repeated evidence that intra-personal events have a direct effect on the function and structure of the brain and therefore the skills to direct these events can most likely lead to changes in wiring and neurotransmitter activity in the human brain". However, "none of the existing modalities in evidence-based psychotherapy has provided an applicable education towards re-establishing the human's most natural state, where we identify with Self rather than ego and provided methods to systematically discontinue the automatic reactions that people have started to consider normal and become identified with." That is why her scientific paper on mental wellness brings into focus the internal domain and sets forth that basic intra-personal skills formulate the cornerstone of self-leadership. However, scientific papers do not change the world. Practical solutions do!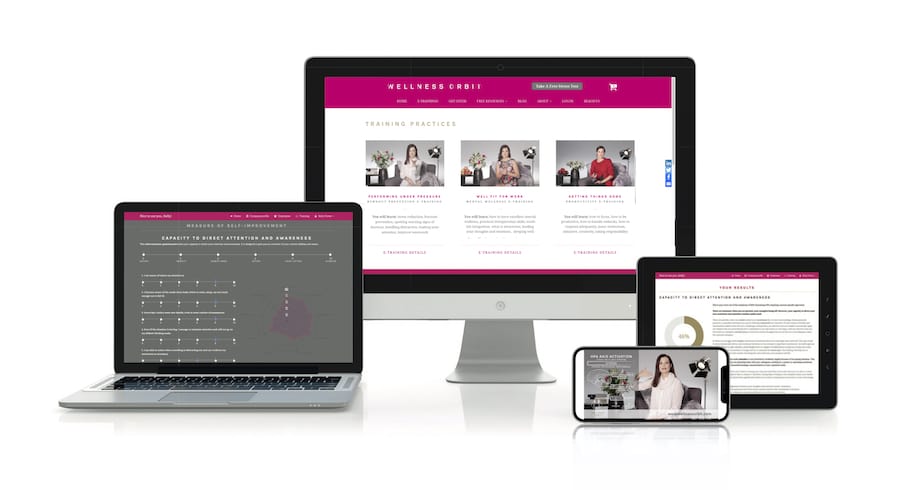 WELLNESS ORBIT AS A PRACTICAL PROACTIVE APPROACH TO MENTAL WELLNESS
Everybody knows going to the gym or spa or doing some form of physical exercise is good for physical health and overall wellbeing. What do you currently do to ensure good mental wellness? Do people in your team have a proactive approach to mental wellness to secure excellent mental health? These are very practical questions relating to your general health and mental wellbeing. Due to the nature of modern work where we mostly use our heads and mental instrument, we can assume that the proportions of demand placed upon the majority of employees (except maybe those doing physical labor only) are approximately 10% physical and 90% mental.
So far we have not had 'mental wellness gyms' or 'mental wellness spas' available, where you can learn and train your intrapersonal skills to direct your own inner functions and the brain. A proactive approach to mental wellness is the only arena that can fill that gap – learning and practicing skills that enable you to be mentally healthy no matter where you are or what you do.
So, that is why we have developed and launched Wellness Orbit. We want you and your team to be able to learn intrapersonal skills in order to secure good mental health at work. Welcome to the world's first fully digital mental wellness gym!