The benefits of training your mind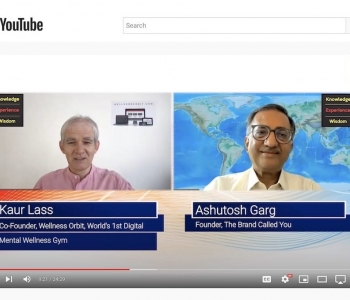 Screenschot from the mental wellness podcast episode
30.06.2022
Mind health is about training your mind when you are still doing okay. Today our Managing Director Kaur Lass is featured in the Brand Called You podcast episode. This podcast is facilitated by the wonderful host Ashutosh Garg.
In the podcast, Kaur opened up about how to keep your mind fit and well through a new digital mental wellness training concept.
Why do you need to train your mind?
When you discover activities to sustain your inner wellness, preventing the downward spiral, that often starts with worry and stress, becomes real. Practical intrapersonal skills allow us all to identify the early warning signs of losing our inner wellbeing. However, training your mind isn't only about preventing mental health problems.
A fit mind is mentally sharp, works well, keeps focus and is creative and insightful. So the purpose of training your mind is to become engaged with the task at hand and perform well. Besides reducing time and personal power loss due to procrastination, training your inner domain allows you to enjoy what you do for a living.
Mind health is also about benefiting from inner calmness in every situation. It is about ensuring your own quality of life. This makes training your mind a win-win came for the employer and employee as well as for you and your family.
Converse with the future and listen to the full podcast with Ashutosh Garg and Kaur Lass in the window below.

How to proceed with mental wellness training?
We hope you liked the podcast and now notice how the digital mental wellness revolution can benefit you and your team.
Let us kindly remind you that only a fit mind can take personal initiative without stressing out or burning out.
Current economic and political situations are full of challenges and in such a situation an unfit mind worries and loses the ability to focus. News, our habits to be connected 24/7 make supply chain disruptions, inflation and health problems visible to us all. More than ignoring it all, we need skills to reduce our own inner negative reactions.
All crises and problems that appear also bring opportunities for a fit mind. You just need to be fit enough to spot them and then be up to the challenges to succeed where others give up and become gloomy. We will open up this on our next blog post!
Now you know that being up to a challenge is 100% up to you. There is no point in blaming others, there is a need to notice what you can do in your unique situation. And here your excellent mental wellness becomes a huge business benefit. It allows you to get things done!
A healthy mind is sharp and creative and keeps focus. Doing well and keeping your mind well becomes down to having excellent intrapersonal skills.
Stop stress, prevent burnout and benefit from your inner sustainability! The tools for this are found on this mind health website.
Once again let us remind you that the systematic proactive mental wellness approach offers tenfold ROI as an investment. Having a fit mind has an attractive financial dimension besides the obvious productivity and employee engagement improvement dimensions.
Conclusion
People with excellent mind health are engaged and productive. We have demonstrated this and backed it up with data in many of our blogs and this wonderful conversation allows you to understand the benefits of training your mind.
The question now is: Are you ready to take action?
If you are select one of the online trainings below or share this blog post with your team's decision-makers! Taking action now allows mental wellness to become your business advantage!
---
This blog post is a join effort of the Wellness Orbit content development team