Mental Wellness Article featured on thrive global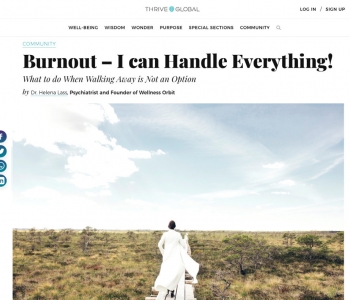 04.06.2018
"Positive stress is a double-edged sword. It releases energy for you to float high on the tides of life, but can just as quickly turn against you…"
With burnout being one of the most common byproducts of our always-on society, it shouldn't be taken so lightly. Burnout can have adverse effects on an individual's mental wellness, employee engagement and on a business's profitability.
In her latest article, "Burnout – I Can Handle Anything!", published on Arianna Huffington's Thrive Global, Dr. Helena Lass explores the topic of burnout.
This mental wellness article looks into the differences between positive and negative stress, the early warning signs, and five distinct phases of burnout and concludes by posing the question of how society as a whole should have a rethink towards the definition of success.
WHAT IS BURNOUT AND WHY AVOIDING IT IS KEY TO EXCELLENT MENTAL WELLNESS AT WORK?
Have you ever heard someone say, "I'm exhausted", or "I'm dead tired"? This is often how people unknowingly express the sensation of burnout.
Dr. Lass writes, "Burnout symptoms include, but aren't limited to fatigue that isn't cured by taking a vacation or having quality downtime, sleep difficulties or insomnia, back pains, headaches and aching joints that don't seem to go away. Agitation, anger, anxiety, dissatisfaction, hopelessness or even apathy with things that used to bring joy, are all symptoms, as well as the low mood that has lasted for longer than two weeks. Depression related to loss, loss of energy, or self-esteem, ability to function, etc. all have to do with more frequent sub-threshold signals of adrenaline and energy depletion. Weakened immune system or frequent illnesses are directly linked to the stress hormone cortisol, an immune-suppressant, being constantly released and results in the need for time off work."
"A study conducted by Kronos Incorporated and Future Workplace, as a part of their Employee Engagement Series, found 95 percent of human resource leaders say employee burnout impairs their workforce retention rates, admitting there is no obvious current solution to the problem." However, this is no longer so, as Dr. Lass and our team have put in years of effort to nip the burnout problem in the bud.

WHY SHOULD I READ THE FULL BURNOUT ARTICLE?
It's widely known that burnout is closely linked with stress, but it is much more than just being tired and it is often the case that the seriousness of burnout is overlooked.
In this mental wellness article you can find out:
What are the different kinds of stress (positive stress and negative stress) in relation to burnout?
What are the early warning signs of burnout we need to spot?
What are the five distinct phases of burnout?
Is it time we revaluate what we deem success to mean in our modern world?
Reading this proactive mental health focused article enables you to find out why is it time to revaluate our current lifestyle and work habits. Reading this story enables you to spot the warning signs of employee burnout more easily!
HOW TO START PREVENTING EMPLOYEE BURNOUT?
It doesn't have to be this way!
As Dr. Lass wrote, "Noticing new or unusual patterns of behavior in yourself, a friend, a loved one, a work colleague, or even your boss, can make all the difference in spotting burnout in order to take the necessary action and prevent its escalation."
Stress and burnout can both be easily prevented for you and everyone on your team.
What you need for this is a new and proactive mental health approach in the form of stress and burnout prevention e-training 'Performing Under Pressure' that is developed and presented to you by Dr. Lass. It is available in your current location over the Internet.

One of our customers from Hurtigruten wrote this way about this mental wellness training experience: "It is the best training I have ever taken. I am aware now about my thoughts and also about my stress level."
CONCLUSION
When you start to notice different inner processes within your own mind, you can build up a less stressful and burnout-free life that isn't only healthy but also a productive one. That is why training your mind before you become too stressed or burnt out truly matters.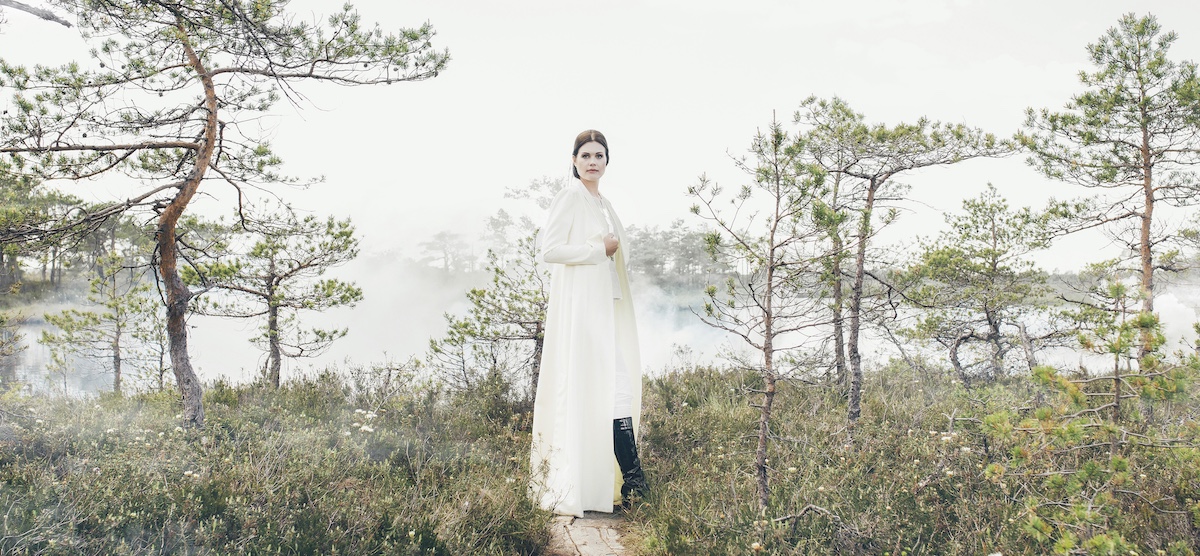 ---
This post is by Chad Palmer