How to implement a proactive mental wellness program for stress relief?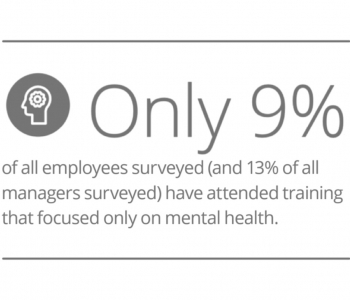 Image from the Deloitte UK 2020 study
23.09.2020
Offering a proactive workplace wellness program for employees is now a must if you want to see personal initiative and personal responsibility. Without those two qualities, people fail to perform efficiently when they work remotely and take long Zoom calls.
The Global Wellness Institute stated back in 2015 that only 9% of the three billion-plus workers in the world have access to a workplace wellness program. Deloitte UK came up with the same number and stated that only 9% of employees have had mental health focused training by the end of last year.
Unfortunately, most of those wellness programs are reactive, dealing with the consequences of stress and neglecting health topics. Today prevention and reactivity focused wellness approaches are far from being a standard.
Stress kills motivation
Why? Oftentimes workplaces and managers/leaders don't know what kind of problems are affecting their employees.
The hope that simply offering more motivation training or team-building workshops will help is false. In reality, such motivational training gives only short-term results as people who seemingly lack motivation mostly experience worry, stress, pressure, and uncertainty. For stress relief you need more systematic action.

Now, when many employees work from home or remotely, it is clear that it is about practical and applicable intrapersonal skills that enable people to deal with stress and pressure. Intrapersonal skills also enable you to keep your focus (we wrote about the downside of multitasking in our previous blog post, have you read it?) in an environment that isn't often designed for work.
Success in the current work situation often comes down to how the person can deal with the emotional and intellectual side of the wellness equation.

Solving the stress situation
In this video, Andrew Whitfield interviews our Managing Director Kaur Lass to open up the seriousness of the stress problem and share some light on what can be done to combat the stress problem that more than 80% of employees currently face.
Click play and watch the insightful video now.

Now when people work remotely your proactive wellness program should involve as many people as possible, so programs that are available at request 24/7 matter more than ever before.
Wellness Orbit fully digital mental wellness gym is offering such a program. Here your e-training solution is more than just learning from a video.
The mental wellness gym training allows self-evaluation and gives every employee instant feedback about their actual stress level, current burnout risk, ability to hold focus, etc.
We have designed unique self-evaluation tools that enable everyone in your team to know their personal situation before and after each e-training. Besides self-assessment tests with instant feedback, your employees can also enjoy:
Professional training videos with a one-on-one feel;
Quizzes that enable one to remember the key insights after each video session;
The workbook for the self-development action plan.
Double your productivity and improve employee engagement
Removing the work-related stress that people face can double your productivity and improve employee engagement as it builds a path towards personal sustainability and initiative.
It isn't a coincidence that according to the Gallup studies approximately 70-80% of employees lack work engagement as according to different stress studies approximately 70-87% of employees are stressed (we have shared Cigna report data on one of our earlier blog posts). It is a fact that many ignore, but it has been proven over and over again that lack of engagement and initiative is mostly due to too much stress. That is why people need instant stress relief through applicable intrapersonal skills.

Remove your own stress first
In the airplanes they always say it well: Put your oxygen mask on first, and then assist others. The same is valid in the case of stress. It is up to you as a team leader to make a change. Are you going to walk the talk?
Back in the 2016 Workplace Wellness Study (by Everyday Health in partnership with the Global Wellness Institute) employees have reported that the top thing that could be improved at their work would be an upper management level colleague leading by example.
When a leader knows how to spot his own stress symptoms, he can also notice such symptoms in others and encourage change before inner problems get too overwhelming.
Employees want to feel that their efforts are valued and that they are important. So, it is time for (HR) managers and business leaders to get involved and show your employees how you can secure a calm mind! Both employers and employees would greatly benefit from intrapersonal skills that enable sustained performance at the highest level.
As business leaders and managers are often even more exposed to stress than employees you can easily benefit from the free mini training and stress test.
If you love what you see, then take your team to stress reduction and burnout prevention training 'Performing Under Pressure', so that your whole team can work more efficiently without sacrificing their mental health in the process.

CONCLUSION
Now that you know how to combat stress effectively you're ready to build and implement that successful proactive wellness program you have always dreamed of. Armed with this new knowledge, the question is, what are you going to do with it?
Do you let your team suffer and underperform by doing nothing or do you choose to take a proactive mental wellness path that secures good work results and well-being? As the data in the video showed, doing nothing costs you dearly.
---
This blog post is written by Kaur Lass