Finally, an e-training that makes mental wellness easily accessible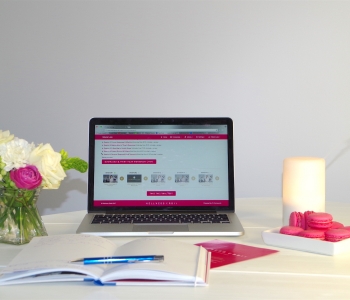 Print your workbook prior to training and take notes!
16.01.2017
Are you working mainly with your head?

Is your work emotionally and mentally demanding?

Do you experience frequent stress or are exposed to a high risk of burnout?
Workplaces can now access the newest mental fitness solution as fully digital mental wellness online training over the Internet.
Wellness Orbit re-invented the whole concept of online learning. It is the first global e-training platform dedicated to intrapersonal skills development and employee mental wellness on the broadest scale.
Wellness Orbit presents modern workplace mental wellness programs that are easy to use and leave you feeling well and fit for work. These modern work-related self-development e-trainings (more e-trainings are coming soon!) come with a simplistic Nordic design touch and bring forward a pathway to excellent mental wellness.
The very first mental wellness online training by Wellness Orbit is now accessible
The very first Wellness Orbit e-training 'Performing Under Pressure' is now available across the globe.
We recommend this mental health online training to be part of your workplace mental health policy and employee wellbeing initiatives. It brings forward a new pro-active approach to mental wellness.
This e-training is more than high-quality professional videos, the training has in-built metrics to evaluate stress levels and workplace burnout risk before the training and then again after the five e-training sessions. This way the trainees can track their real change and see how their practical intrapersonal skills improve.
As a result of the training, your team members will gain self-sufficient tools for stress management and learn how to prevent burnout at work by taking conscious responsibility for their own goals and health. All training sessions are presented by our trainer Dr. Helena Lass and foster a 1-on-1 feel.




When your work is physical, so are the dangers and therefore physical safety measures need to be provided. But when your work is mental, so are the health risks. Instead of a hard hat, you need intrapersonal skills, that help you to avoid those risks and equip you with mental toughness and sharpness.

This stress reduction and burnout prevention e-training should be accessible default and to all people who work with their heads (like lawyers, bankers, engineers, programmers, teachers, etc).
Why?
Today millions of people around us still suffer from a lack of focus, distractions, stress, and burnout that lead to anxiety, depression, and even more serious mental health issues that could have been prevented by learning practical and applicable intrapersonal skills.
Stress isn't only a mental health related problem, because stress can also cause many physical illnesses and reduce our ability to perform well and support our families.
It doesn't matter what triggers stress, prevention strategy is always the same: removing inner reactivity and replacing it with awareness and aware decision making.

MENTAL WELLNESS IMPACTS 100% OF YOUR STAFF
Workplaces now need to start providing safety measures for mental health for all. Just as it is done at a construction site, where the relevant protective measures are provided to workers every single day to avoid injury. Even more than that, we can compare this training to going to the gym – it provides fitness for everyone.
Just as we train our physical bodies we need to train our minds to deal with the inner pressure that we face at work. That is why all employees need such a proactive approach to securing mental fitness while they still are well.
Fact: 63% of employees report insufficient resources to manage workplace stress (APA, 2015).
Let's help people at workplaces to take care of their main tool – their heads. Ensure that you, your colleagues, and your employees receive appropriate training! Then when they notice the early warning signs of burnout they already know how to deal with it.
START REDUCING STRESS NOW, THIS TRAINING IS EASY TO SET UP
When you pay with a credit card, you will get an instant admin invitation to your e-mail or pay by invoice (an invitation will be sent to you when payment is received).
Click on the link in the e-mail. It takes you to the admin dashboard. Once on the platform, you need to insert your company's contact information.
To secure a high enrollment rate print and share promotional materials (poster and digital banners are downloadable and auto-filled with the end date of your training).
Copy-Paste your staff's e-mails (invitations are automated and include everything that your employees need to know)
That's it - your company is now ready to start the e-training.
You can observe who joins and finishes training in real time. You will also get feedback from your team.
Initial setup for this digital staff training takes about 10 minutes of your time.
Every employee gets an automatic invitation (no hassle), sets his/her own password, and goes forward at a chosen pace.
Upon starting the training, each user is provided their personal workbook in .pdf (printable).


Easy-to-Use Mental Wellness Training
Every one of your employees will get a personal account. Everyone who enters the training will acquire their personal evaluation results prior to training and after the training is complete (the results are kept personal and aren't accessed by other persons; needless to say our site is secure and values everyone's privacy according to all EU rules).

You can experience the training an unlimited number of times during the 3-month training period. You can also re-evaluate your progress as often as you want. The optimal training pace is two sessions (45min + Q&A) per week (there are 5 training sessions in each of the online training).
Company admin can reward employees who have completed the training with a Certificate, noting the topics passed (printable, can be signed).
Enjoy e-trainings made easy!
Do you want to see how to set up this stress and burnout prevention training? Come and take a closer look at what happens when you make your investment:
CONCLUSION – High stress levels and burnout are preventable
Stop losing your brightest mind to presenteeism, stress, burnout, and even more serious mental health issues as stress levels are high across all age groups.
This proactive training approach provides your staff with valuable practical skills that they can apply right away. You won't find a better value anywhere else as the proactive mental wellness approach was totally missing until this e-training came along.
---
This blog post is by Kaur Lass