You can now join mental wellness e-trainings one team at a time
Wellness Orbit is inspired by Nordic design
15.03.2018
Wellness Orbit's new and innovative e-trainings have been on the market for a year.
Despite the success, the most common question we have had from user feedback is: "Am I able to have Wellness Orbit only for certain teams within my company?"
Absolutely, we hear you! From now on the answer is always, yes!
We changed our pricing focus from whole companies and organizations to teams, so that your employees can enjoy the tailor-made mental health e-training approach.
This change allows smaller teams to train, even within big workplaces.
We initially priced Wellness Orbit according to the total company/organization size as we hoped that this would speed up the process of making our pro-active mental wellness approach accessible for many in all workplaces. However, we see that as proactive mental fitness training for all is something new it is better that workplaces can start with smaller teams.
We are sure that the training is so resultful, that others will later try to follow the mental wellness revolution that we started.

WONDERFUL MENTAL WELLNESS TRAINING PRICE PER EMPLOYEE
Wellness Orbit mental wellness gym online training prices for bigger teams start from 30€/employee per training.
This is the most awesome mental wellness and/or employee initiative e-training offer ever!
Your investment for training 20 people with a single mental wellness training starts from 40 €/per team member. This sum guarantees that you can train a small team with a fraction of the cost compared to live training. And best of all, every single mental wellness e-trainings is open for re-experiencing for 3 months.
Let us take another example, training 150 of your team members annually is even lower, your monthly investment, in this case, starts from 10 €/per person!
We are sure that when people apply what they learn you can see a tenfold return on your investment.
This awesome price isn't for any training, it secures you high-quality professional mental wellness training content by global mental wellness pioneer and practicing psychiatrist Dr. Helena Lass.
HIGH-QUALITY MENTAL WELLNESS CONTENT
All Wellness Orbit e-trainings have a unique one-on-one training feeling and also offer self-evaluation tools (tests with instant feedback), workbooks, etc. For example, the workbook that comes with every mental wellness training allows you to develop your personal path to mental strength and intrapersonal wellness.
Let us compare it to other courses. For example, the mental health first aid course that trains your staff members to support others with mental health issues (reactive approach to mental health) starts in the UK from £160 (that is almost 180 € per person). We can do better as we can skip room rentals, traveling costs, etc.
While we offer attractive prices, we secure high value and provide practical skills that everyone can apply right away. When employees would apply what they learn in Wellness Orbit courses the need for mental health first aid and psychiatric help reduces significantly.
You are welcome to try the free online mental health course right now.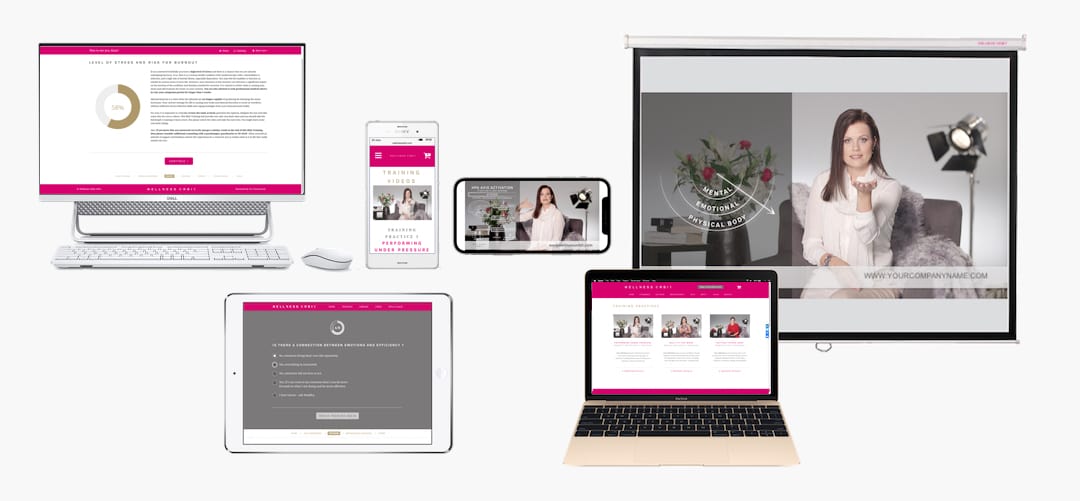 THIS MENTAL WELLNESS GYM FOR YOUR TEAM IS OPEN 24/7
Of course, you still have all the previous benefits such as:
Flexibility, choose when and where to take each training session;
Re-experience the online training videos an endless amount of times during the 3-month training period (or a year if you have an annual subscription), so that you can change your habits permanently;
Repeat exercises and tests as often as you like;
Watch on any device (as long as it has a good Internet connection) or even on a movie screen (all our e-trainings have FullHD video quality) as group training sessions;
Overview to team admin from your side who has started and finished the training (admin has no access to your personal test results as your health situation is fully your private matter).
You can instantly start Wellness Orbits online training with your smallest team, and then invite later more staff members, teams in other locations, or the whole company or organization to join in.

Your training here is always an experience because of this unique feature:
One-on-one conversation style feeling with Dr. Helena Lass - that means more personal eye-to-eye contact than in any live training for groups. As one of our happy customers, Jekaterina Mishina Trainer at Hurtigruten (see video), put it: "The online trainings I have used before, are mostly done in the way of PowerPoint presentations or some kind of videos, but not the way it is done here, where you can see face to face with the trainer."