'New Path Towards Mental Wellness' – article in Thrive Global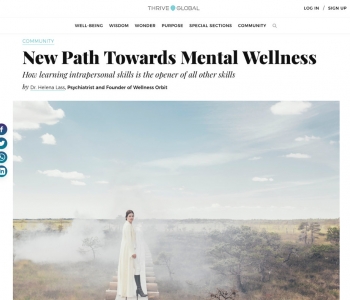 03.07.2018
Good news! Our founder Dr. Helena Lass has her second mental health article published on Arianna Huffington's Thrive Global. It's her sixth article published in global media.
WHY SHOULD I READ THIS MENTAL WELLNESS ARTICLE?
Your colleagues and friends could benefit a lot from knowing how to secure mental well-being and a healthy mind, so please take a few minutes of your valuable time to read it. And when you love it, please share this and other mental wellness articles. By doing so, you can easily promote and spread the benefits of soft skills that secure mental fitness and reduce work-related mental health costs.
Dr. Lass's latest article, 'New Path Towards Mental Wellness', maps out our inner systems and brings into focus awareness-based intrapersonal skills.
WHY ARE INTRAPERSONAL SKILLS VITAL?
Dr. Lass, as a mental wellness coach, adequately explains that learning intrapersonal skills is the opener of all other skills, much like learning to read expands access to new knowledge and therefore enables the development of new knowledge and understanding.
How to secure mental wellness?
This new mental wellness article introduces intrapersonal skills as the foundation of a successful career and as a guarantee of a positive boost in productivity. Securing mental wellness for everyone in your team is vital for nipping the possible health problems in the bud.
The cascade of mental health problems often starts as, "People react constantly to data presented in their daily lives with the activation of an automatic emotional-mental process, closely followed by a physical reaction, resulting in subsequent behavior." Only once we begin to understand why we are the way we are, can we set forth a pathway towards better mental wellness.

BETTER SELF-AWARENESS AS THE BASIS FOR MENTAL WELLNESS
Dr. Lass writes in this article that: "Awareness forms the basis of all our intra-personal skills. Learning to use and lead our internal instruments includes knowing what our attention is focused upon. This is the prerequisite to effective self-leadership – being aware of the whereabouts of your attention – the most valuable asset of the 21st century."
In her article, Dr. Lass also shares why she is fascinated by the new framework that enables all of us to understand the inner domain of human beings outlined by her awareness teacher and successful author Ingvar Villido.
THREE PILLARS OF MENTAL WELLNESS
Dr. Lass has three pillars in bringing forward her new approach to mental wellness:
Her medical education and medical practice-based approach towards proactive mental wellness,
Our team's practical entrepreneurial skills and
Her decade-long background in awareness practices.
Often new approaches are born when different areas of activities and expertise emerge. This is also the case with the new proactive mental wellness approach for workplace well-being in the case of Wellness Orbit.
CONCLUSION
It took a huge amount of learning, testing and practical trial before the beneficial and result-providing mental wellness e-trainings for you and your team were born.
In this easy-to-read story, Dr. Lass shares some of the backgrounds behind this very practical workplace mental fitness approach that she and our team have been developing for you.
This article is well worth reading if you genuinely want to value& your own inner domain and mental strength. It allows the fundamental discovery of advantages that demonstrate an immense positive potential that can also benefit your team. After all, all employers desire employees who are vital and mentally sharp.

---
This post is by Kaur Lass and Chad Palmer