Mental Health Awareness Week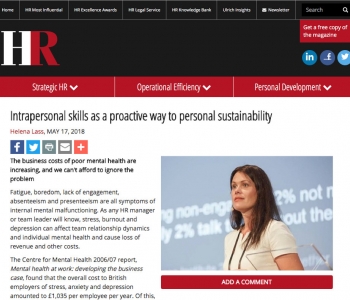 17.05.2018
With it being Mental Health Awareness Week in the UK this week (14-21 May 2018), HR Magazine UK has today published and shared an article entitled "Intrapersonal Skills As A Proactive Way To Personal Sustainability" written by our founder Dr. Helena Lass.
The article pointed out that the business costs of poor mental health are increasing, and businesses can no longer afford to ignore the problem.
Are you aware that fatigue, boredom, lack of engagement, absenteeism, and presenteeism are all symptoms of internal mental malfunctioning?
When people experience stress or allow their minds to wander, it isn't often about a lack of motivation. It is lack of mental sharpness or fitness that is the root cause here.
As any experienced HR manager or team leader well knows, stress, burnout, and depression can affect team relationship dynamics and individual mental health and cause loss of revenue and other costs. That is why it is worth investing in stress reduction, employee burnout prevention and mental wellness improvement.
Let us now take a moment and observe the existing costs that you as an employer experience.
WHY DO WE NEED A NEW APPROACH TOWARDS WORKPLACE MENTAL WELLNESS?
The Centre for Mental Health 2006/07 report, "Mental health at work: developing the business case", found that the overall cost to British employers of stress, anxiety, and depression amounted to £1,035 per employee per year. Of this, £335 was due to absenteeism, £605 was lost through presenteeism, and £95 was down to staff turnover.
Ten years on, the Centre for Mental Health has provided an update for the financial year 2016/17, and its findings show that these overall mental health costs increased to £1,300 per employee per year, reflecting a significant 25.6% rise. What it demonstrates is the fact that employee mental health at work is getting worse and probably continues to do so until we shift our approach towards mental wellness.
Absenteeism increased to £395 (up 17.9%), presenteeism is now at £790 (a 30.5% increase), and staff turnover at £115 (up to some 21%). Overall costing the UK economy £34.9 billion, which shows a 34.7% increase from £25.9 billion in 2006/07. Based on these figures we can only surmise that over the next 10 years we will see a similar pattern.
Can we really afford to just ignore this problem?
DIGITAL MENTAL WELLNESS GYM AS A SOLUTION TO WORKPLACE MENTAL HEALTH PROBLEM
When mental wellness in workplaces is approached proactively, it can be likened to going to the gym.
We all know that going to the gym enables us to keep our bodies physically fit. We go to the gym when we are more or less well with the intended purpose to stay fit and enjoy health also in the future.
It is a similar approach that we need to apply for training our mental fitness.
Workplaces, therefore, need access to a 'mental wellness gym' – a digital training environment where their employees can train their minds so that they can successfully face stressful work situations and solve complicated work challenges.
Training our minds to be fit and mentally strong is a solution to workplace mental health problems that almost every workplace faces.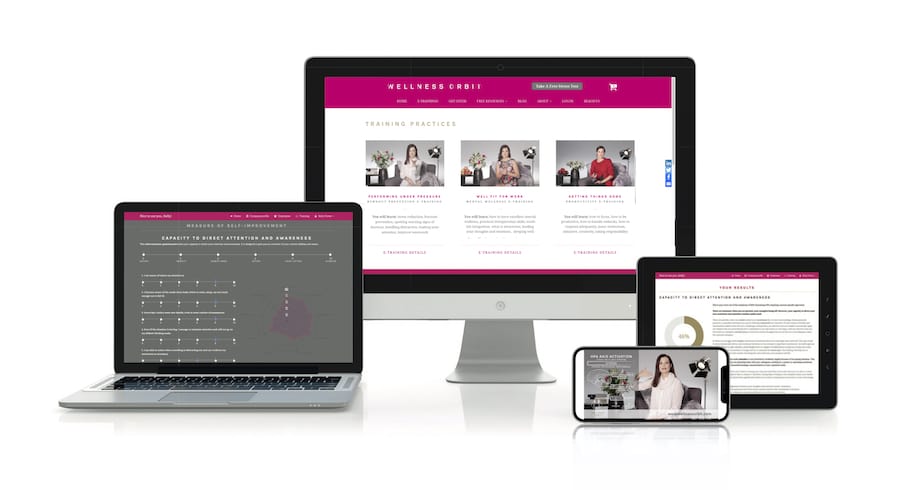 ---
This post is by Chad Palmer