Introduction of pro-active mental wellness trainings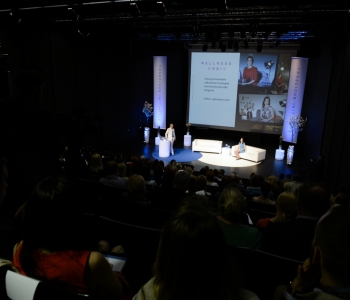 Dr Helena Lass in front of several hundred people
06.05.2016
The very first Wellness Orbit pre-introduction took place at Conscious Initiative Conference "Workplace. Wellbeing. Performance" in May 2016 in Tallinn. The upcoming video based e-trainings are predominantly developed to answer the need of entrepreneurs, companies and organizations. That is why this successful entrepreneurship event fitted well for our very first public introduction.
Focus on proactive mental wellness
Wellness Orbit is an e-learning platform developed by Dr Helena Lass and her team. Dr Lass has been developing pro-active mental wellness for several years now. She saw that it time to create a mental wellness solution in the scalable format as mental health problems around the globe keep growing.
The upcoming digital training solution re-invents the whole concept of online training. It will have a modern design (the author of the branding concept is Jürgen Salenbacher from CPB Lab in Barcelona; web and training design solutions are by Risto Bakhoff). As one of the co-owners of our company has previously programmed online video solutions for the US market and the other one of the owners runs a movie studio, there is good know-how in house.
Those who expect old fashion class room style training videos or Powerpoint presentations have to be disappointed. Those are gone. Instead, we will see self-evaluation options, FullHD videos with one-on-one feeling and stylish design with a Nordic touch.
A unique combination of entrepreneurial skills, awareness & mental wellness
Dr Helena Lass has always been passionate about entrepreneurship and practical application of awareness. Being also a medical doctor (psychiatrist), she knows in detail how the human mind works. Her unique background made it possible for her to merge these three areas of expertise. This new, unique and professional content makes Wellness Orbit a springboard for companies to help employees maintain their learning curve.
Dr Lass combined the best know-how from modern medicine and awareness studies and came up with the concept of awareness-based intrapersonal skills that enable to build a practical road map to achieve mental wellness (Yes, we all have it! No, it is not about mental illness = lack of wellness).

Wellness Orbit will offer e-trainings that enable companies to solve stress, burnout, depression, and disengagement related problems. Participating in the trainings will open up employee's professional excellence and retain a workforce that is healthy, agile and creative, harboring an overall growth-mindset.
When can we expect launch of Wellness Orbit online trainings?
The planned launch of the new e-training platform is currently in January 2017. The whole team of Wellness Orbit is working on keeping this time schedule. The shooting, design, and programming involve about 17 people - all top professionals in their field of competence.

See more photos of the Conscious Initiative Conference.

Share this story: