Dr. Lass has Mental Wellness Article featured in New Zealand HR magazine!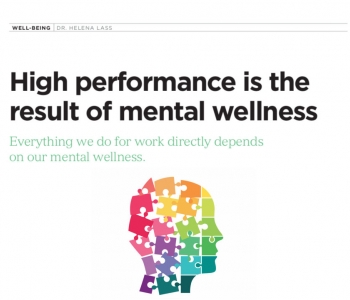 26.06.2018
Focusing on mental wellness proactively is an opportunity to positively influence the lives of all employees, entrepreneurs, and achievers. Excellent mental fitness is key for using your brain in the most effective way of solving work-related tasks.
In her latest article published in Human Resource Institute New Zealand (HRINZ) magazine entitled "High Performance is the Result of Mental Wellness", Dr. Helena Lass discusses the importance of proactive mental wellness and the benefits it can bring individuals, employees, leaders, companies, and businesses.
Everything we do for work directly depends on our mental wellness. Although we work with the "head", we predominantly rely on our inner mental functions to get our work done. But workplaces have missed an approach that secures mental fitness for all employees.
The article explores the differences between mental health and mental illness and gives an overview of the proactive mental wellness approach in workplaces. It brings forward Dr. Lass's new take on the arena of proactive mental health presented in her scientific paper just a few months ago. In this New Zealand published mental wellness article, she shares her insights into the next revolution, the revolution of our inner selves.
Mental wellness at work needs a more systemic proactive approach. People need to learn need practical intrapersonal skills so that they can effectively deal with daily work challenges and perform well when life and work demand more from them.
Enable your team to find a sustainable path towards mental wellness and productivity that is based on learning practical and applicable intrapersonal skills ...
MENTAL WELLNESS AS IMPROVER OF PRODUCTIVITY
Mental wellness can improve your team's productivity and employee engagement without sacrificing the mental well-being of employees and business leaders in the process.
The practical path towards excellent mental wellness in workplaces is now easily accessible in Wellness Orbit's mental wellness e-training 'Well Fit For Work'. And the best of all – for the first time high quality proactive mental wellness training comes with very reasonable pricing.

By now there are several studies that show that investing in the mental fitness of all employees has excellent ROI. We will cover this more and more as new studies come along. So this training is not an expense, it is a clear and beneficial mental well-being investment.


---
This post is by Chad Palmer