Dr. Helena Lass was interviewed by Bill Fox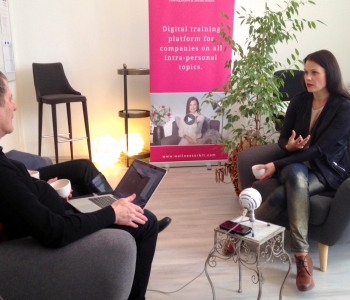 Dr. Helena Lass was interviewed by Bill Fox
25.04.2017
You are most welcome to listen to the interview with our founder Dr. Helena Lass. In this interview with Bill Fox, who is the Founder of the Forward Thinking Workplaces, you'll be able to benefit from some excellent insights.
This interview is part of the "Forward Thinking Workplaces" series.
In his interviews, Bill Fox brings together thought leaders around the globe and engages them in meaningful conversations about enhancing our ways to work.
In this interview, you can enjoy the discovery of:
What role does individual initiative play in the workplace culture?
How applied awareness has the power to support creativity, growth mindset, and human potential?
Why should mental wellness and intrapersonal skills be a vital part of workplace culture?
The problem in workplaces is a lack of personal initiative
Dr. Lass said during the interview: "I think very often people workplaces are treated like extensions from kindergarten. We say that people are managed in the same parallel as they are managed as children. We think that people don't know how to self-manage, so we have to organize them in some way. I think it maybe is okay with kids because they are still learning. But as adults, most people would like to be self-motivated, self-sufficient, self-managing. Our culture of managing people is taking responsibility outside of people, so people give up managing themselves – or don't train this muscle to manage themselves because they never need to. They are managed by somebody else." What we need is a change in attitude.
She continued: "When people take more responsibility for their own feelings—how they feel, what they think, and how they position themselves in their own lives and the world—then they depend less on companies and workplaces providing it. Then it will evolve into a normal relationship between the employee and the company where the employee doesn't depend on the company. In this environment, real collaboration can happen."

Workplace wellness isn't a goal by itself
Dr. Lass also said to Bill Fox, "We in society can see that there is always lack. We always lack something. We lack motivation. We lack happiness. We lack potential. We lack joy. We lack contacts. We see it as if I'm lacking something. This touches the deeper sides of us. Actually, we ourselves are not lacking."
She added, "You will never have the stable feeling of happiness if you're looking that in emotions because emotions always change. You can never hold a stable emotion of happiness 24/7 week after week. Emotions are meant to change. Emotions are like seasons. They are created to change, and it is foolish of us to look for stability from amongst changing phenomenon." That is the main reason why the currently popular effort to secure happiness at work is foolish. Instead of that workplaces should enable employees to learn intrapersonal skills. If people know how to deal with inner processes they are less stressed and can focus more on the task at hand.
CONCLUSION
Dr. Lass sees wellness as the main pre-requisite for excellent performance at all times and tasks: "You see the word "well" has a much wider meaning than just health, referring to quality: a job well done, time and resources well spent, to listen well, etc."
Bill Fox said: "I think Helena shared some great (epic really!) insights. It is very intriguing and profound, so I am excited to share this message with others".
See the short video teaser:
---
This news and blog is by Kaur Lass