Wellness Orbit's online trainings are dedicated to mental wellness and improving human capacity.
All high-quality e-trainings in this mental wellness gym are designed to enable teams to develop healthy and sustainable work patterns in modern knowledge-based and creative economies. The very unique approach available here enables your team to prevent mental health problems (such as stress, burnout, anxiety, and depression) and improve productivity.
The aim of Wellness Orbit is to empower everyone to do what they already do by improving their productivity and focus, without sacrificing their mental wellness in the process.
All mental wellness gym trainings instill the following values for your team
Personal initiative – the very foundation of productivity, human capacity and professional skills (including entrepreneurship skills);
Awareness – the foundation of all intrapersonal skills (the skills that lead to inner wellness and improve productivity);
Mental wellness – the foundation of excellent mental health and physical health.
WORK WELL. LISTEN WELL. LIVE WELL
Wellness Orbit was born out of a need. When it comes to mental health and internal health in general, the main focus has been on disorders and the cure. This narrow approach has left people feeling that mental health has no relevance in life unless a mental illness occurs, up until now.
In reality, all humans possess an internal realm and experience thousands of different intrapersonal events ('intra', meaning inside) on a daily basis. Feeling emotions, learning, thinking, planning, focusing and leading our attention, having an ability to investigate, take initiative, gain insights, etc can all affect our internal realms. Mental wellness in its rightful context means certain ease in directing all of those internal processes.
Mental wellness is something that enables us to contribute and live our lives to the fullest.
ALWAYS ACCESSIBLE AND EASY TO UNDERSTAND PATH TO MENTAL WELLNESS
Wellness Orbit enables your team members to access intrapersonal skills and mental wellness related e-trainings 24/7 from anywhere where there is an Internet connection that is able to play FullHD video. Be at work, in their own home or at a business or holiday trip.
Best of all every single Wellness Orbit training session here is taught in a way that is simple, practical, improving the mental fitness and productivity of your team members.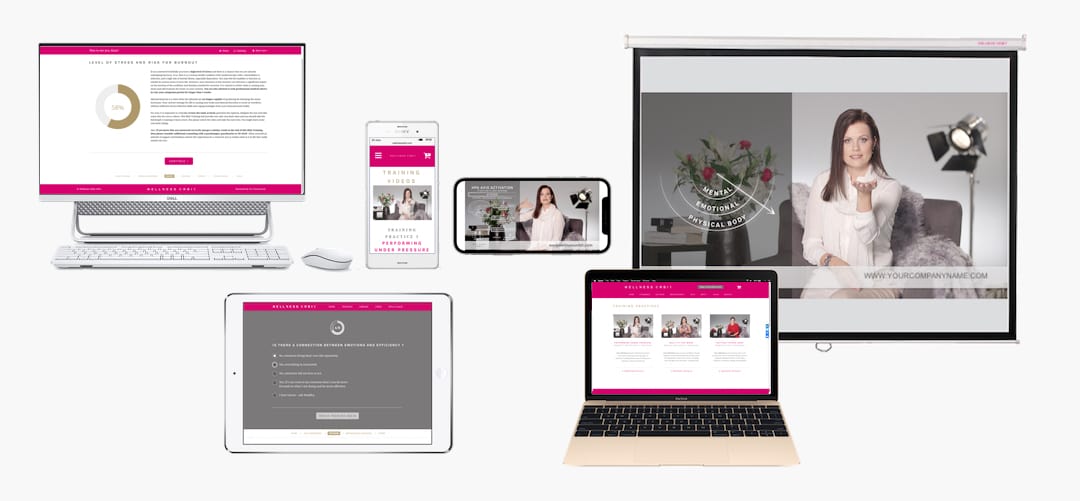 GLOBAL PARADIGM SHIFT TOWARDS PROACTIVE MENTAL WELLNESS
In essence Wellness Orbit is the world's first a fully digital mental wellness gym for teams. Our aim is to disrupt the very stagnant arena of mental health with a new science-based proactive approach towards mental wellness.

Wellness Orbit online trainings for your employees are a unique coming-together of three very different worlds, medicine, entrepreneurship and awareness, inspired by The Art of Conscious Change™ teachings. Three currently available Wellness Orbit e-trainings were developed and conducted by Dr. Helena Lass.

Our team founded this fully digital mental wellness gym with the aim to make high-quality mental wellness trainings easily accessible in all workplaces. The mental fitness approach has never been used before in a scalable digital format and is a global paradigm shift from a reactive approach towards mental health to a new proactive approach towards mental wellness.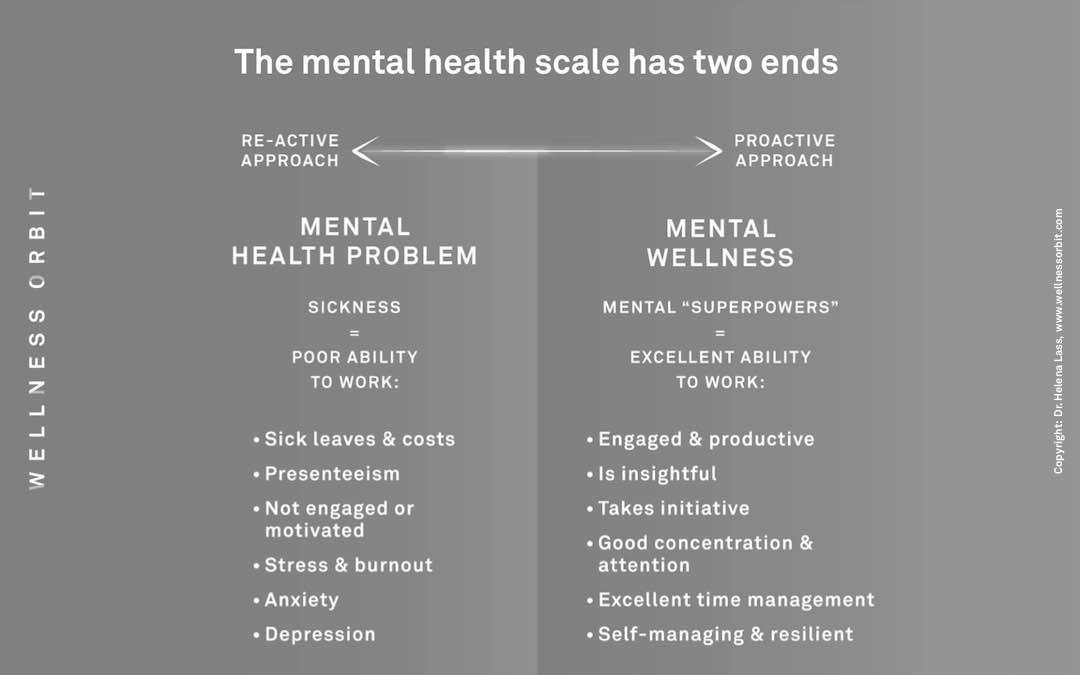 MISSION
Our mission is to improve overall mental wellness in workplaces.

Why? The need for the new proactive mental wellness approach that Wellness Orbit brings forward is huge. According to Deloitte UK study "Mental health and employers. Refreshing the case for investment" from January 2020 employers experience huge financial loss (it varies from £702 to £3,353 per employee annually depending on the employment sector) from a lack of mental health. Employers, therefore, stand to win most by making the mental wellness gym e-trainings available for all of their employees. This new proactive mental wellness approach in workplaces enables employees to thrive and is a low-cost investment that secures you excellent ROI.

Our 9 promises to you and your team are listed here.
VISION
We see that mental wellness is the very foundation of all purposeful action, productivity and personal well-being.
When workplaces make intrapersonal education available for their employees they build a sustainable foundation for improving productivity, professional skills, and overall workplace wellness. Today, without such a strong foundation many employees suffer from mental health issues.
EXPERT DEVELOPED MENTAL WELLNESS ONLINE TRAININGS FOR YOUR TEAM
Enable your team to improve intrapersonal skills with Dr. Lass in order to secure good mental wellness and efficient use of all existing professional skills.
Welcome to the mental wellness gym!

QUALITY ASSURANCE AND EXCLUSIVITY
This unique proactive approach to mental wellness and lasting inner motivation is not available anywhere else! Dr. Lass does not provide similar training or coaching sessions in a live format and continues to work as a psychiatrist, sustaining her top-professional qualifications as a medical expert in the arena of mental health. Our competitors lack a similar systematic approach to teaching practical intrapersonal skills that are applicable from day one.

The proof that Dr. Lass is a well known professional expert can be found in her scientific paper about proactive mental wellness and personal sustainability that was published in 2018 globally by Routledge - the world's leading academic publisher in the Humanities and Social Sciences.
MEMBERSHIP IN HEALTH-TECH CLUSTER
Wellness Orbit is a member of Connected Health – an Estonian HealthTech cluster that is part of the European Connected Health Alliance and ScanBalt network.

Read the introduction of Wellness Orbit by Connected Health.
WELLNESS ORBIT AND DR. HELENA LASS ARE FEATURED IN:












---
KEYWORDS:
Intrapersonal skills; Intrapersonal wellness; Intrapersonal education; awareness; consciousness; mindfulness; entrepreneurial mind-set; initiative; personal initiative; self-leadership; self-management; personal responsibility, employee engagement; work engagement; employee wellness programs; workplace wellbeing initiatives; workplace wellbeing trainings; workplace wellness; corporate wellness; corporate wellbeing; employe wellness; employee training; staff training; business training; science-practice integration; mental wellbeing; mental fitness; mental toughness; mental wellness; proactive mental wellness; proactive mental health; stress reduction training; stress prevention training; stress management training; mindfulness-based stress reduction program; MBSR; stress management; proactive stress management; stress prevention; employee burnout; avoiding employee burnout; burnout prevention; reducing employee burnout risk; work related burnout; workplace burnout; adrenal burnout; adrenal fatigue; anxiety prevention; depression prevention; online training; online learning; e-learning; e-training; fully digital training; easy access; quiz; test; metrics; pre and post training assessment; self-assessment questionnaire; feedback; interactive participation; workbook; group discussion guidelines; Full HD videos; professional videos; professional studio sound; elegant custom made graphics; expert trainer; professional trainer; mental wellness expert; proactive mental health poineer; psychiatrist; Dr. Helena Lass; HealtTech; trainings in English; self-service; digital facilitation; no hidden fees; secure credit card payment; instant invoice after payment; no hassle; EU registered company; honest and ethical business.